Violet Akhondzadeh, D.D.S., FICO, INC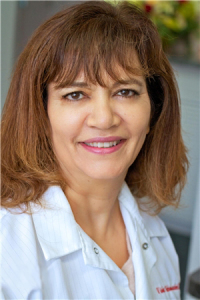 Dr. Akhondzadeh, known more familiarly by her patients as Dr. Violet, has been practicing dentistry since 1994. She received her Doctorate of Dental Surgery in 1981. A member of the American Dental Association (ADA), California Dental Association (CDA) and The International Congress of Oral Implantologists, Dr. Violet has also studied Cosmetic Dentistry at UCLA and has accrued over 1,000 hours of education in Orthodontics.
In 1996, Dr. Violet's passion for dentistry led her to Whittier, CA, where she opened her own practice and has been right-at-home ever since. Her goal is to treat every patient with the care that she would expect if she were in the dental chair. To reach this goal she uses the best dental labs, the most effective products possible, and stays up-to-date with the rapidly evolving technology of dentistry. Her practice is focused on each individual patient – tending to his or her need, however unique they may be.
Her passion for her craft stems from an understanding that the mouth is an important part of the body. Not only does the mouth nourish the entire body, but it also has the ability to harm by being a source of disease and discomfort that can deteriorate one's overall health. Therefore her goal is to help people keep their teeth healthy so they can enjoy life.
Dr. Violet makes time to repay the blessings that she has received by volunteering her services to non-profit groups and supporting the efforts of the Red-Cross and Salvation Army.
In her free time, she likes to spend time with her daughter, who is a lawyer and Berkeley California Graduate. She loves to stay active, likes traveling, enjoys walking her dogs, maintaining and caring for her roses and orchids and going to the Whittier Farmer's Market.